The best road trips from St Malo
The best road trips from St Malo
The regions in the North of France are some of the most beautiful in the country, where old towns, countryside landscapes, great food and lots of wine are all integral parts of its charm. The ferry from either Portsmouth or Plymouth to St Malo is the best way to get there and explore the areas. Here are some of the best places to visit around Normandy and Brittany...
Dinan – 30 minutes
Dinan is one of the oldest towns in the Brittany region of France, and experiencing it first-hand can feel like walking into a time capsule. The classic medieval architecture of half-timbre buildings reigns supreme throughout the town's quaint cobbled streets; head to the Centre Historique to see the best example of it. There are also great places to eat and drink, including La Lycorne, a traditional French restaurant serving some of the best mussels in the area.
Mont Saint-Michel – 1 hour 5 minutes
The Mont-Saint Michel island is probably the most famous landmark in Normandy. The commune features a beautiful medieval Abbey completed in 1523 and has been a UNESCO World Heritage site since 1979. The abbey alone is worth visiting for, but the island is also home to plenty of shops and restaurants too. Le Grande Rue is one of the most popular shopping streets on the island, featuring boutique shops and cosy cafes.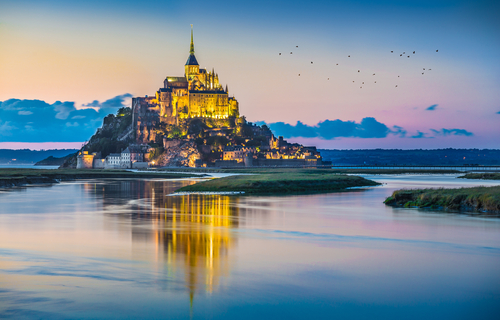 Quimper - 2 hours 49 minute
Quimper is the capital of the Finistere department of Brittany and the oldest city in the region, dating back to the Roman Times. For any nature lovers, Le Jardin de la Retraite or Retirement Garden is a beautiful botanical garden situated by the old city walls. For art lovers, the Musée des Beaux-Arts is the place to visit; the museum holds over 3000 paintings! After a day of art, head to the Medieval Quarter. The Place au Beurre, the main square, is a picturesque place to go for a drink and watch the world go by.